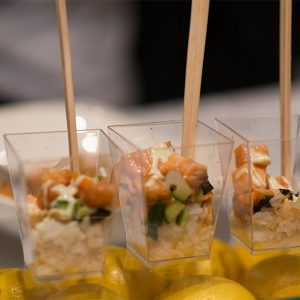 Salmon Capital Seafood Taste
10:30am to 2pm

@

June 11



Minimum donation of $5/person
Location: Spirit Square, Campbell River
Showcasing the talents of B.C.'s chefs, the Salmon Capital Seafood Taste is a new addition to the BC Seafood Festival – expanding the festivities into Campbell River for the first time!
There's no better way to celebrate Seafood Month than joining Campbell River's aquaculture industry for a taste of B.C.'s fresh farm–raised fish. Featuring chef-inspired food stations with creative culinary delights created by:
Chef Dave Ryan, Culinary Team Canada Champion
Chef Siddharth Choudhary, Siddhartha's Indian Kitchen
Chef Xavier Bauby, International Chef & Coach / Culinary Instructor (North Island College)
Chef Kathryn Guenette, Wild Blueberry Gourmet Eats
Not to mention that Courtenay's Luke Blu Guthrie will perform original rhythm and blues songs for your entertainment.
This is one event you won't want to miss! All proceeds raised will be donated to the Campbell River Hospital Foundation.